A Pint & a Book – Book discussion at the pub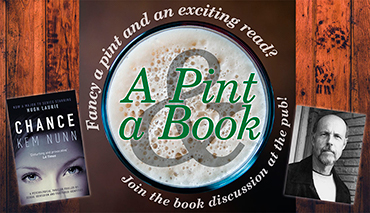 This month we're having a meet to discuss the wonderful but perhaps little-known Californian author Kem Nunn's most recent book Chance – which has just been turned into a TV-series starring Hugh Laurie!
Kem has been a favourite of Jan's for a long time, his beautiful sparse prose and his recurring themes of redemption in the face of adversity are masterfully executed. Kem went to university with Richard Ford (played in the same band) and there are echoes in the writing of both.
The difference now is the form of the meeting. In collaboration with our friends at O'Neill's we're calling it A Pint & a Book. The concept is you pick up the book in the shop and pay for the book inclusive of a modest meet fee, and then you go home and read.
On the 27th you show up at a reserved table at O'Neill's and have a drink or a meal (you get 20% on the food) and a pleasant discussion about Chance with James van Loon.

So – doesn't that sound like a wonderful idea? Stop by and pick up the book and join in the fun!