Summer Evening Poetry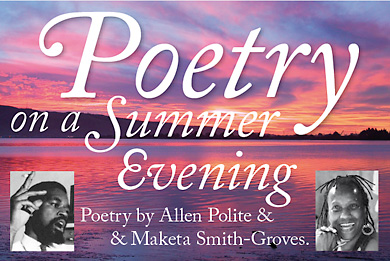 Welcome to an evening with poetry at The English Bookshop!

Helene Polite will talk about and read from the poetry of Allen Polite and Maketa Smith-Groves will read from her collection Red Hot on a Silver Note.

Snacks and refreshments will be served. 

Event is open to everyone. No RSVP required.

Stockholm Tuesday June 10 at 19.00
Uppsala Tuesday June 17 at 19.00

Click Read more to... read more about the poets.



ALLEN POLITE was born in 1932 at Newark, New Jersey. ­After serving in Korea and Japan he settled down in New York, becoming a part of the vibrant Greenwich ­Village scene in the fifties as artist and poet. His poetry was ­published in Amiri Bakara's magazine Yugen in 1958, in the anthology 'Sixes and Sevens' 1962 and in 'New Negro Poets' edited by Langston Hughes and published in 1964.

He worked at a bookstore and later also as a code-breaker at the UN with a direct line to Dag Hammarskjöld.

In 1963 he decided to take a sabbatical year and came to Sweden to visit his artist friend from the Village, Harvey Cropper. He met a woman, Helene, and decided to settle in Stockholm. He died from cancer in Stockholm 1993.

He painted and wrote poetry during these years but didn't want to publish. After his death his widow Helene went through all his notebooks and loose notes, transcribed his texts and published three books with his poetry.

Samuel Charters, poet, author, music historian says:
'A major voice of the postwar Afro-American diaspora. His poems are a magnificent discovery and his artwork a total pleasure.'



MAKETA SMITH-GROVES lives in San Francisco. She is an international poet, having also read at the Sprachsalz ­Literary Festival, in Innsbruck, Austria, in 2011, and 2012, as well as in Zurich, Switzerland. She has one collection of poetry, and is currently at work on a new collection. Her work is included in numerous magazines, and in several anthologies. She has won a PEN award, and was Artist-in-Residence, at the Headlands Center for the Arts, in Sausalito, California.

She has just received the 2014 Acker Award for Avant Garde writing (May 2014).

Publisher's note:
'Jazzy and funky-fresh, Red Hot on a Silver Note combines contemporary themes with hip-hop sensitivity and traditional beat vision. With strong rhythms, cautious optimism and ironic humor, Groves explores racism, love, ­prejudice, cultural pride, and family relationships. Tough or tender, her poems capture the rhythms of speech - intense and natural, clear and direct, always communicating the sense of deeply felt experience.'