Stockholm shop turns ten!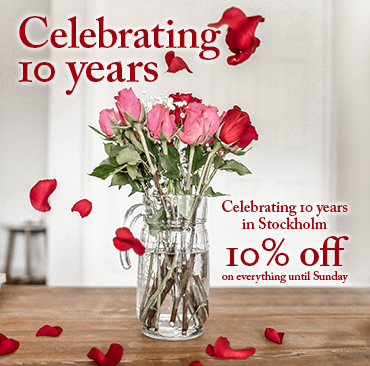 STOCKHOLM | Tuesday 8th May
Today, May 8th, our shop in Stockholm turns 10 – come celebrate with us! 10% off everything in the Stockholm shop until Sunday.
On a sunny Thursday in May ten years ago, Carolyn Cassady of immense beat (and other) fame, cut the green ribbon and inaugurated our shop in Old Town in Stockholm. Today, May 8th, marks the ten year anniversary of the shop opening in Stockholm.
The owners of The Uppsala English Bookshop, Jan and Christer, had talked for years about opening a second shop in Stockholm and then stumbled on this cosy little place in Old Town. In the summer of 2015 we relocated to the lovely place where we are now in Södermalm, close to Nytorget – it's like a little world unto itself with nooks and crannies – all full of books, with Tom presiding deftly behind his wooden counter.
What an amazing ten years it has been. And what a great year this has been so far – we've hosted events and releases, held a number of reading groups and storytelling sessions, received more than 1500 new titles bolstering our already extravagant stock, won the Bookstore of the Year Award at London Book Fair, and now we're turning ten!