Release party: Two Thirds North 2018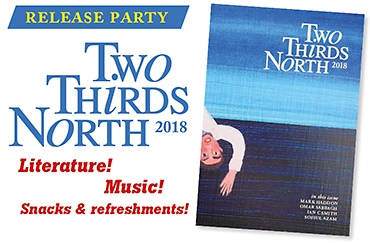 STOCKHOLM | Thursday 19th April at 19:00
Join us for the release party for the 2018 issue of TWO THIRDS NORTH, Stockholm University's journal of international literature!
If you have a craving for international literature then you should come for an evening of live readings and literary discussions at the Stockholm bookshop.
Buy a copy of the journal and get it signed by the authors while you chat with the writers, editors, and professors of Stockholm University's creative writing program.
In this year's issue you will find fiction and poetry by 31 contributors under the headings of The Maelstrom's Current, Where Are You Now?, Love and its Discontents, What Else in the End?, and finally And Yet, And Yet. Also an edited and commented draft showing the process of editing, followed by a conversation between author and editor. In this year's issue you will also find an interview with author Mark Haddon.
The band Mister Ferrari will do a short acoustic set, performing songs from their upcoming debut album.
Light snacks and refreshments served.
Thursday 19th April at 19:00. Free!