Release: 99 Americanisms that Captured the World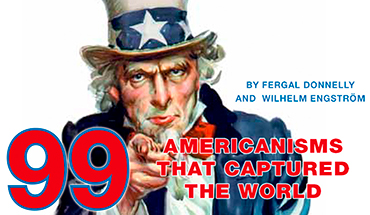 STOCKHOLM | Thursday 16th Nov at 18:00
"…two countries divided by a common language"
Join us and the Swedish-British Society in the Stockholm shop for the release of 99 Americanisms that Captured the World – the latest book by the President of the Swedish-British Society, Professor Wilhelm Engström, and his co-author Dr Fergal Donnelly.

The authors will expand on "…two countries divided by a common language", a bon mot normally attributed to Oscar Wilde. It sounds innocuous enough to our ears, as do 'reliable', 'influential' and 'lengthy', which all inspired loathing when they first crossed the Atlantic.

Understanding the game of linguistic and cultural differences can make the course of business run more smoothly, but even if we learn each other's language there is still a natural barrier that keeps our two worlds apart.

Find out more at the book release event on November 16th.
Snacks and refreshments will be served. Free event.
» Feel free to share and RSVP to this facebook event