Reading Group - The Stars in the Bright Sky by Alan Warner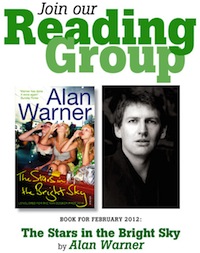 Welcome to a cozy evening meeting in the bookshop to discuss the month's book – The Stars in the Bright Sky by Alan Warner. During the evening we'll talk about the book and enjoy each other's company as well as a nice cuppa' tea and some delicious cake. And you get 10% discount on everything!
The cost is only 50:- + book 130:-. (Oh, that includes the delicious cake as well!) Limited number of participants (max 10), so talk to the book- sellers and book your seat today.
Uppsala: Wed Feb 15th / Thu Feb 16th at 7 pm
Stockholm: Wednesday Feb 22nd at 7 pm
Pitch perfect, darkly comic and brimming with life – in all its squalor rage, tears and laughter – this is an unforgettable story of female friendship.
The sopranos are back: out of school and out in the world, gathered in Gatwick to plan a super-cheap last-minute holiday to celebrate their reunion. Kay, Kylah, Manda, Rachel and Finn are joined by Finn's equally gorgeous friend Ava - a half-French philosophy student - and are ready to go on the rampage.
Just into their twenties and as wild as ever, they've added acrylic nails, pedi- cures, mobile phones and credit cards to their arsenal, but are still the same thirsty girls: their holiday bags packed with skimpy clothes and condoms, their hormones rampant. Will it be Benidorm or Magaluf, Paris or Las Vegas? One thing is certain: a great deal of fast-food will be eaten and gallons of Guinness will be drunk by the alpha-female Manda, and she will be matched by the oth- ers' enthusiastic intake of Bacardi Breezers, vodkas and Red Bull....
"Warner puts these very flesh-and-blood girls into locations of almost J G Ballardish sterility, with sodium lamps, flyovers and neon-signed hotels, all described beautifully. The way he manages to inhabit his gang of girls with such gusto is one of the small miracles of contemporary fiction." – Sunday Times
Alan warner is the author of six previous novels: Morvern Callar, These Demented Lands, The Sopranos, The Man Who Walks, The Worms Can Carry Me To Heaven and The Stars in the Bright Sky, which was longlisted for the 2010 Man Booker Prize.
Download the Reading Group poster (as a reminder, or if you want to spread the word)