Midnight release – Harry Potter #8 The Cursed Child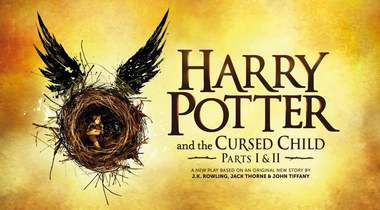 UPPSALA & STOCKHOLM | Saturday 30th July
Come, queue up for the book event of the year! A new Harry Potter story released on Sunday 31st July 01:01 CET, and the shops are open! (The doors open on Saturday 30th July at 23:59 in both Uppsala and Stockholm.)
*** UPDATE ***
All copies in the first shipment are now reserved, so only pre-booked copies will be on sale at the events. More copies are coming in after the weekend, book your copy now! (Email us at uppsala@bookshop.se or stockholm@bookshop.se )
Doors will open at 23:59, the book is released at 01:01. (In Uppsala the festivities will begin already at 20:00 outside the shop.)
Do join us for the release event even if this first delivery of books is booked. It's going to be lots of fun!
***
The Eighth Story. Nineteen Years Later.
Based on an original new story by J.K. Rowling, Jack Thorne, and John Tiffany, this is a new play written by Jack Thorne. The book is The Official Script Book (Rehearsal Edition) of the West End play. It is not a novel but is the eighth story in the Harry Potter series.
Dress up as your favourite character (fabulous prizes), eat pasties and tea, have fun while waiting to be among the first to see the book.
The Uppsala Slug Club will join us to celebrate this fabolous event in the Uppsala shop, with readings and all sorts of fun things!
MultiCon will join and add to the fun in the Stockholm shop.
Contact the Uppsala or Stockholm Shop to pre-book your copy now, to make sure you don't miss out. One way to do this is by sending us an e-mail with your name and phone number (or email address), and we'll make sure that a copy is reserved for you.
Saturday 30th July from 23:59 in Uppsala and from 23:59 in Stockholm. In Uppsala the festivities will begin outside the shop already at 20:00.
Link to the Uppsala event: https://www.facebook.com/events/1214648338546574/
Link to the Stockholm event: https://www.facebook.com/events/1737607856511169/
-----
Warner Bros. Entertainment and J.K. Rowling are not responsible for this event but, subject to conditions, they have kindly granted us permission to use the Harry Potter trade mark and other materials.