Meet Linda Olsson in the Stockholm shop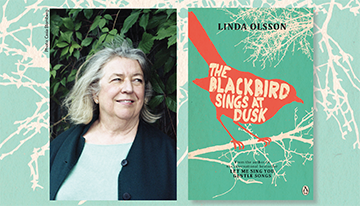 STOCKHOLM | Tuesday 23rd August at 18:30
Evening Talk: Linda Olsson in conversation with Dorotea Bromberg
Stockholm Tuesday 23 August at 18:30
Ticket 50 kr (includes refreshments) available to purchase in the Stockholm shop
Linda Olsson is the author of several novels, and she writes in both English and Swedish. She was born in Sweden, but has since lived in Kenya, the UK, Singapore and Japan before settling in Auckland, New Zealand. Linda's first novel, the critically acclaimed Let me Sing You Gentle Songs (Astrid & Veronica in the US), was published in 2006 and became an instant bestseller in both New Zealand and Sweden.
We are thrilled to welcome you all to our very first author event of the season, where Linda Olsson will discuss her new novel The Blackbird Sings at Dusk. Linda will be in conversation with her Swedish publisher Dorotea Bromberg. The event is a collaboration with Brombergs Bokförlag, and the book will be available in both Swedish and English.
Don't miss this very exciting talk on literature, belonging and writing in two different languages! The conversation is in English.
Visit Linda Olsson's website: www.lindaolsson.net
New Zeland publisher Penguin Books NZ: www.penguin.co.nz
Swedish publisher Brombergs: www.brombergs.se