Meet Ben Aaronovitch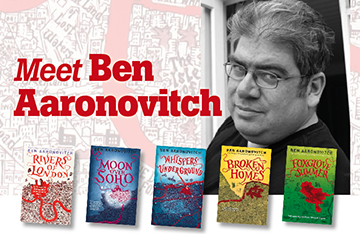 Ben Aaronovitch is the British mastermind of the critically acclaimed Rivers of London-series, following the young Metropolitan Police Officer Peter Grant in the supernatural, underground world of London. Aaronovitch has also written for television, including two Doctor Who serials.
Join us in the Uppsala or Stockholm shop to hear Aaronovitch discuss fantasy, writing and his latest novel Foxglove Summer. There will of course be plenty of time for questions and signings!
UPPSALA Wednesday 5th August at 19.00.
Tickets 20:-.
STOCKHOLM Thursday 6th August at 10.00 (the first in a series of Breakfast talks at the Stockholm bookshop).
Tickets 30:- (incl a light breakfast)
Get your tickets at the bookshop today, seating is limited.