Book release "Down to Earth Cooking"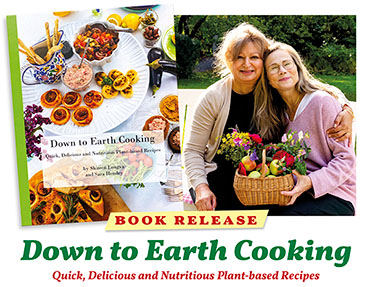 STOCKHOLM | Thursday 4th May at 18:00. Free!
BOOK RELEASE:
Down to Earth Cooking – Quick, Delicious and Nutritious Plant-based Recipes
by Shireen Longva and Sara Hendey
Are you looking for a delicious and nutritious way to help mitigate the climate crisis? Look no further than Down to Earth Cooking! This must-have cookbook offers a wide range of plant-based recipes that are quick, easy, and bursting with flavour.
Whether you're a seasoned vegan or simply veg-curious, this cookbook is packed with mouthwatering dishes that are sure to satisfy. From soups and salads to main courses and desserts, every recipe is free from dairy, eggs, and refined sugar, making it the perfect choice for anyone looking to embrace a healthier, more sustainable lifestyle.
Click to read more
Written by Stockholm-based nutrition consultant and plant-based caterer Shireen Longva and Sara Hendey (together with photographer Anette O'Riordan), Down to Earth Cooking is more than just a cookbook – it's a comprehensive guide to the plant-based lifestyle. You'll learn how to choose the right ingredients, prep your meals efficiently, and create delicious, satisfying dishes that are good for you and the planet.
Get your copy of Down to Earth Cooking at the release event and start enjoying the many benefits of plant-based cooking!
The book is fresh off the press, and the authors are eager to share their best tips for plant-based cooking and answer any questions you might have about making the transition to a more sustainable way of living – and they offer tasty samples from the book at the event!
STOCKHOLM Thursday 4th May at 18:00
Free event – bring a friend.
Refreshments & tasty samples from the cookbook served.