Author visit: Rumki Chowdhury – "Secrets in the wind"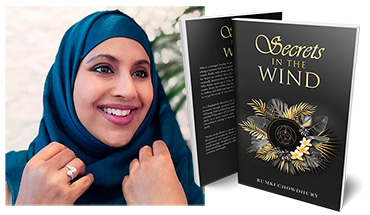 STOCKHOLM | Friday 31st March at 18:00. Free.
Meet Rumki Chowdhury as she presents her new Young Adult book Secrets in the Wind – a coming-of-age novel in a Bangladeshi-American setting.
A story about resilience, femininity and the power of sisterhood, juggling different cultures and tackling the difficult themes of stalking and child marriages.
STOCKHOLM Friday 31 March at 18.00
Free event – bring a friend!
» Read more on the facebook event page Like&Share
"Asha is a teenager hoping to get to know her Bengali culture on a deeper level by taking a vacation with her parents from America to Bangladesh. There, she meets her cousin, Kushi, with whom she hopes to form an immediate sisterly bond. However, her hopes are crushed when she senses Kushi is hiding a deep and dark secret…"