Author visit & book release "The Sky Over Rebecca" by Matthew Fox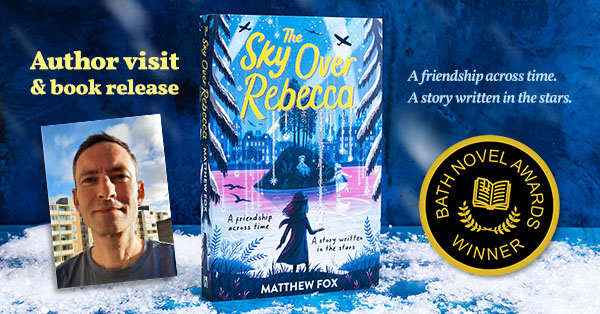 STOCKHOLM | Saturday 7th May at 17.00. Free event!
Join the book release celebrations in the Stockholm bookshop together with author Matthew Fox!
The Sky Over Rebecca is a new fantasy novel for readers age 10 and up, set in Stockholm in the deep midwinter. Winner of the Bath Children's Novel Award!
Reading! Book signing! Celebration & refreshments!
Saturday 7th May at 17.00 in the Stockholm bookshop
Free event – bring a friend.
Ten year old Kara Lukas notices some strange footprints magically appearing and disappearing in the snow. When she follows them, they lead to Rebecca, a thirteen year old girl who seems to be living out in the cold, on an island on a frozen lake. But the truth, Kara discovers, is even more startling: Rebecca is a time-travelling refugee, looking for a place of safety.
Dealing with themes of loneliness, bullying, empathy and discrimination, The Sky Over Rebecca is an emotional and imaginative exploration of time travel, grief and bravery from a stellar new voice in children's fiction.
Matthew Fox lives in Stockholm. He grew up in England and studied at the University of Oxford and the Northern Film School. The Sky Over Rebecca was written while he was on parental leave, pushing a pram around Stockholm in the snow, and while his daughter napped in the middle of the day. It went on to win the Bath Children's Novel Award in February 2020.
Matthew is currently writing his second novel for Hodder Children's Books in the UK. The book is illustrated by Ben Mantle.
Read more about Matthew and the book at www.matthewfox.se