While waiting….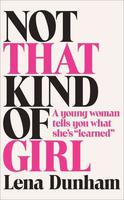 On the 30th of September Wonder Woman Lena Dunham's long waiting autobiography "Not That Kind of Girl: A Young Woman Tells You What She's 'Learned'" will be released. I am so excited and as it always is with Dunham you don't know what to expect at all except brilliance. Dunham is the talented brain behind the TV series "Girls" which has been a success all around the world. The series is about four girls living in NYC and trying as hard as they can to be successful: with their jobs, boyfriends and lifestyles. In a very humorous way Dunham is describing all the "do's" and "don'ts" of womanhood and is really capturing the insanity of being able to live up to it all. I expect nothing less than the same humour and sharpness in her autobiography as the series.
While waiting with quite high expectations I have three fantastic autobiographies, written with the same brilliance, humour and sharpness as I believe Dunham's book will be. They also describe the difficulty of womanhood and the paradoxes of trying to be everything at once in a really witty way.

This book got released in 2012 and like fire it spread all over the world as an answers to so many questions asked by women but also by men. The book begins with Moran's first experience of her period and then continues to her first meeting with porn, the stupidity of high heels and her thoughts during her first pregnancy. You laugh and laugh and laugh and get some mind blowing new thought regarding sexuality and feminism. This is my perfect gift to anyone and everyone; I give it to everyone who is celebrating anything, man or woman, age doesn't matter. I haven't heard one negative word about Caitlin Moran as a person or as an author; people just seem to love her craziness.

Jane Bussmann's autobiography is about being really stupid, making insane choices and even though everything around you is flashing red to warn you, you follow your gut feeling and in the end you'll make one of the biggest journalist scoops in an decade. This novel is hilarious from the start and Bussmann is going to do a lot of mistakes before she starts to write history. Bussmann is really ready tell the whole truth and nothing but the truth while entertaining the reader about her journey from the states, back to her origins in the UK to Africa where the real adventure begins. All this because of a beautiful politician with dark curls and a perfect smile. Bussmann I making a lot of jokes and is really entertaining but all of a sudden she entwines a very dark reality in the depth of Africa. This is a most-read!

My last recommendation is a story I haven't read literary but I've listen to the audio book read by Tine Fey herself. She is such a talented screenwriter, actor, comedian and producer I don't know what, and listening to her telling her own story is a delight! She is trying to make a really good point and the autobiography's got a nice moral to it. This is a more traditional autobiography in the way it is told, however, the points it make are controversial and hilarious! As it says "Tina Fey reveals all, and proves what we've all suspected: you're no one until someone calls you bossy."