Webinar "Monotasking" with Staffan Nöteberg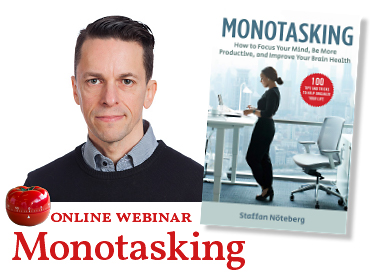 ONLINE | Tuesday 8th June at 19:00. Free!
You have an awful lot of tasks you need to complete today. You want to tell everyone to leave you alone. At the end of the day, you wonder where the day went. You worked hard, you are nowhere near getting everything done. Try something new tomorrow!
Join us for a free online webinar and presentation by Staffan Nöteberg, an agile coach, author of the brand new book Monotasking and also The Pomodoro Technique Illustrated, and a professional football coach. In his books, he gives us research condensed into handy tips that works for all of us – in real life!
Start checking off that to-do list with Monotasking!
» Sign up today and order your book copy
» Visit Staffan's website at www.staffannoteberg.com