We're the Bookstore of the Year 2018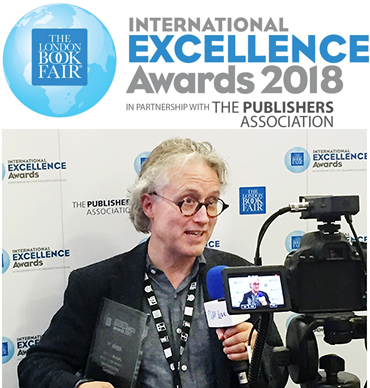 London Book Fair | April 10th 2018
We won the Bookstore of the Year award at the London Book Fair!
We've been awarded Bookshop of the Year at the International Excellence Award ceremony at the London Book Fair. The award is presented by the London Book Fair and the British Publishers Association to "celebrate and showcase the wonderful activities of the rest of the world's publishing activity".
So, we're Bookshop of the Year in the entire world (except UK)!
According to the judges, "Uppsala English Bookshop demonstrated their all-round capability with the outstanding loyalty of its customers and outreach."
This award is for you – we wouldn't be here without you, our amazing customers, fans, friends and supporters. This is for you.
Some media links:
» Press release: The London Book Fair International Excellence Awards 2018: Winners Announced
» DN.se (in Swedish): The Uppsala English Bookshop prisas som Årets bokhandel i London
» Svensk Bokhandel (in Swedish): "Jag kunde inte sluta le" – on being "best in the world", the book trade, and the missing acceptance speech…
» Interview (in Swedish) on Sveriges Radio P4 Uppland: Världens bästa bokhandel ligger i Uppsala