Cancelled – Surgeon at Arms – Wednesday Sept 17th at 7 pm
Unfortunately tonight's Arnhem Observance has been cancelled due to illness. We will announce a rescheduling once we have set a date. Sorry!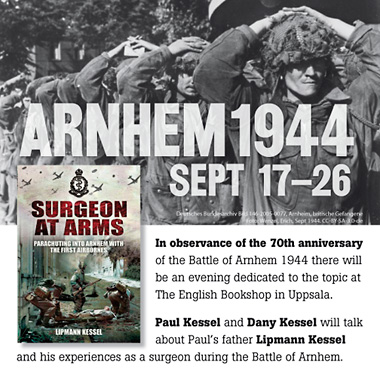 In observance of the 70th anniversary of the Battle of Arnhem 1944 there will be an evening dedicated to the topic at The English Bookshop in Uppsala.
Paul Kessel and Dany Kessel will talk about Paul's father Lipmann Kessel and his experiences as a surgeon during the Battle of Arnhem. Surgeon at Arms – Parachuting into Arnhem with the First Airbornes is one of the most interesting and dramatic personal memoirs to come out of the Second World War. Now republished after being unavailable for many years, it warmly deserves to find a new generation of readers.
Wednesday Sept 17th at 7 pm.