Signed Book Contest Winners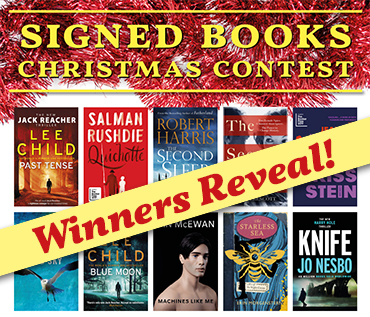 And the winners are...
From the almost 200 entries to our signed book contest we have drawn the lucky winners using Random.org and their random sequence generator that uses "atmospheric noise, which for many purposes is better than the pseudo-random number algorithms typically used in computer programs" (sounds impressive, doesn't it).
As far as possible, we have matched the winners up with their preferred titles, but depending on the place in the draw there might be a surprise...
All winners have been notified by email. Congratulations and enjoy your new books!
The correct answers, you ask?
Q1. In what year did Ayatollah Khomeini issue a fatwa on one of Salman Rushdie's previous novels?
1. 1989
Q2. Which of the authors you can win has given this writing advice: "You should write the fast stuff slow and the slow stuff fast."
x. Lee Child
Q3. What was the name of Jeanette Winterson's 2011 autobiography?
2. Why be Happy When You Could be Normal?
Q4. Robert Harris's brother-in-law is:
1. Nick Hornby
Q5. The 2005 Ian McEwan novel Saturday is set in a building based on his own home, situated in which London district?
2. Fitzrovia
Congratulations to:
Anton K in Stockholm
Malin V in Boden
Jan H in Uppsala
Sebastian A in Stockholm
Maartje K in Stockholm
Jenna in Upplands Väsby
Caroline in Vellinge
Jonas O in Järvsö
Stalin V in Stockholm
Stephen P in St. Louis
Philip H in Upplands Väsby
Aland K in Uppsala
Nina C in Uppsala
Andreina F in Uppsala
Dorian V in Stockholm
Christina L in Järlåsa
Malin T in Uppsala
Emma H in Mörrum
Eva-Maria N in Umeå
Sofia W in Bålsta
Matthias in Enebyberg
Emelie G in Uppsala
Therese L in Lund
Cristina P in Stockholm
Anna P in Stockholm
Marina D in Uppsala
Anjana R in Stockholm
*