Philosophy Reading Group: Aristotle's Way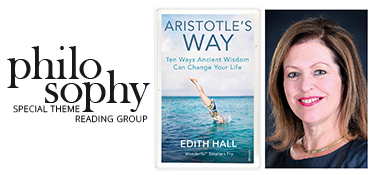 Welcome to join this special theme philosophy reading group, facilitated by Madeleine Hyde. There will be a meeting in Uppsala as well as in Stockholm.
ARISTOTLE'S WAY
Ten Ways Ancient Wisdom Can Change Your Life
by Edith Hall
What do you and an ancient philosopher have in common? It turns out much more than you might think…
Aristotle was an extraordinary thinker, perhaps the greatest in history. Yet he was preoccupied by an ordinary question: how to be happy. His deepest belief was that we can all be happy in a meaningful, sustained way – and he led by example.
In this handbook to his timeless teachings, Professor Edith Hall shows how ancient thinking is precisely what we need today, even if you don't know your Odyssey from your Iliad. In ten practical lessons we come to understand more about our own characters and how to make good decisions. We learn how to do well in an interview, how to choose a partner and life-long friends, and how to face death or bereavement.
Life deals the same challenges – in Ancient Greece or the modern world. Aristotle's way is not to apply rules – it's about engaging with the texture of existence, and striding purposefully towards a life well lived.
This is advice that won't go out of fashion.
(Psst. Don't worry if you haven't finished the whole of the book before the meeting– it's still worth joining in for the discussion.)

Sign up for this reading group either by dropping by the shop (and getting the book), or by contacting the shop in any other way.
PHILOSOPHY SPECIAL THEME READING GROUP
Uppsala: Monday 20th May at 19:00
Stockholm: Tuesday 21st May at 18:30 (fully booked)
Group fee 60:- (incl tea & cake) + book 165:-
Learn more:
» visit Edith's website
» follow Edith on twitter @EdithMayHall
Would you like to get invitations to any of our regular reading groups? Sign up for the newsletter and reading group invitation at www.bookshop.se/newsletter