Mystery Writing Workshop 2016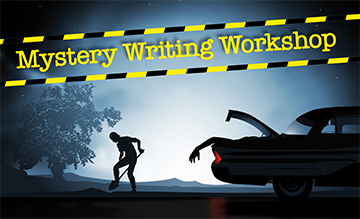 UPPSALA | Starting Mon 21st March
Do you have an unpublished script lying in a drawer, or a great idea for a crime novel?
Join our popular Mystery Writing Workshop to help your wish come true.
In four workshop sessions, starting Monday 21st March in Uppsala, we'll discuss well-known and popular crime novels from different genres, for inspiration and ideas. We'll talk about a specific topic, for example characters, red herrings, language, the writing process etc. You will be able to bring your own work for constructive criticism.
This workshop is aimed at both beginners and more experienced writers. The purpose/goal is to be supportive in the creative process!
Make sure to take this unique opportunity and make a leap forward in your writing!
Cost: 500 kr + books (a discount is given if you buy all four books in a package). The books are: Jacqueline Winspear: Maisie Dobbs, Raymond Chandler: Lady in the Lake, Wilkie Collins: Dream Woman, and Karen Campbell: The Twilight Time.
Place: The English Bookshop, Svartbäcksgatan 19, Uppsala.
Dates: 4 Mondays at 19:00–21:00 – 21/3, 11/4, 2/5 and finally 23/5.
Participants: maximum of 10.
The workshops are led by James van Loon, author of Blue Magic Woman.
Please book your seat in the group by paying the fee in advance.