Ten top-notch thrillers that will keep you turning the pages until you've devoured the whole thing!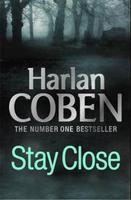 Last week, the UK edition of Harlan Coben's new standalone novel Stay Close was published. I thought I'd mark the occasion by paying tribute to one of my all-time favourite thriller writers. Already read all of Coben's books? Do not fret, m'dears - I'll throw in a couple of similarly thrilling reads for you! Some new(ish), some slightly older, but all deeply, deeply readable. Ready? Here we go.
Helena's Top 10 of the Month: Ten top-notch thrillers that will keep you turning the pages until you've devoured the whole thing!
1. Tell No One - Harlan Coben
Coben's breakthrough novel is still his best (although, ever the optimist, I can't help hoping that Stay Close will be even better). Here's what you need to do in case you haven't read it yet: get the book. (You know where, right?) Cancel all plans. Take a day or two off. Make sure you're sitting comfortably with energy-boosting snacks and drinks within reaching distance, because baby, you're not going to want to stop reading until you've finished the entire book.
2. Just One Look - Harlan Coben
This 2004 standalone is a rather good example of Coben's ability to combine a deeply recognisable everyday setting with hypnotic tension. I remember reading it on a beach in the Caribbean and hardly even looking up to take in the gorgeous views until I had read the very last page.
3. Caught - Harlan Coben
Last year's standalone from the ever prolific Coben was actually the best one in quite a while in my ever so humble opinion. Also, if I'm not mistaken, this is the book where an acquaintance from Coben's Myron Bolitar makes an appearance.
3. No Time For Goodbye - Linwood Barclay
You've probably caught on by now: I really, really like Harlan Coben. So much, in fact, that I sometimes wish there could be more authors just like him: authors who team up the truly mundane with the truly unthinkable and, in doing so, create pageturner magic. When I stumbled across Linwood Barclay's first standalone thriller, I couldn't help but feel that I had won the lottery.
4. Never Look Away - Linwood Barclay
Another winner from Barclay, dealing with secrets, trust (and lack thereof) and whether you can ever truly know someone. Gave me the chills.
5. Fragile - Lisa Unger
This was my first novel by Lisa Unger, but it certainly won't be my last. If you enjoy the little subgenre I like to call suburban thrillers, you will most definitely enjoy this engrossing tale of a missing girl and a tightly knit community coming undone in the aftermaths of the disappearance. Great characterisation.
6. City of the Sun - David Levien
It has been a while since I read Levien's debut novel, but I remember being thoroughly gripped - and feeling somewhat queasy as I put it down.
7. Don't Breathe a Word - Jennifer McMahon
Deep, dark Vermont woods, a captivating mystery from the past coming back to haunt the main characters - and fairies (the evil kind)! What's not to love?
8. Sharp Objects - Gillian Flynn
Gillian Flynn's novels are not only some of the best thrillers I've read in recent years; they are also some of the best books I've read in recent years, full stop.
9. Dark Places - Gillian Flynn
That's right: I named my own blog after a Gillian Flynn novel. Because she's that awesome. Now read her books, and make sure to look out for book number three, Gone Girl, due out in May.

10. Before I Go to Sleep - S.J. Watson
Imagine waking up every morning with no idea of who you are, where you are, or how you got there. Imagine having to rely on a stranger - albeit a stranger who keeps telling you to trust him - in order to regain your memories. This is a reality for Christine, the protagonist of S.J. Watson's mesmerising debut. Original and truly unputdownable, Before I Go to Sleep will keep you guessing until the end. Highly recommended.