Gone Girl – Gillian Flynn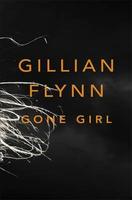 If you prefer your thrillers dark and literary with a big side order of intricate twists and achingly real characters, but have yet to read a book by Gillian Flynn, I have one word for you. Congratulations! See, it is my firm belief - and I have the likes of Stephen King on my side here - that contemporary crime just doesn't get any better than Flynn. Her first two novels, Sharp Objects and Dark Places, are not only two of the best crime novels I've read this decade - but also two of the best books, full stop. Now, do I have your attention?
Good. If you like your thrillers all dark and literary and twisty (who doesn't?) and already consider yourself a card carrying Gillian Flynn fan (again, who doesn't?), you will be pleased to know that the "congratulations!" part also applies to you. Flynn's third novel, Gone Girl, just hit the stores - and it is just as good as the previous ones! Flynn gave her more senior crime writing peers a serious run for their money with her first two books, and if there is any justice in this world, Gone Girl will be her big breakthrough novel. I'm talking Hollywood movie, more literary awards, book clubs, New York Times bestseller list, the works. Because, as I'm sure many L'Oréal models would agree, she's worth it. Seriously, Gillian Flynn deserves to be read by, well, everyone. At least everyone who is interested in well written, compelling literature with a darkly sinister finish. (Then again: who isn't...?) Flynn's novels are standalones but definitely share some character traits, raw, exquisite language and complex female protagonists being two of them. Oh, and darkness, obviously. As her arguably best novel to date (and yes, it is the one I named my Swedish book blog after) suggests, Gillian Flynn knows some dark, dark places, and she is not afraid to take us there. In the acknowledgments section of Dark Places, Flynn thanks her husband for still sleeping next to her with the lights off. If I were Mr Flynn, I might consider sleeping with a night light after having read Gone Girl. I don't want to give anything away, but Gillian Flynn has a very, very disturbed mind. Needless to say, I mean this as the highest praise possible.
Gone Girl is a tense, stylistically flawless relationship thriller where nothing - and I mean NOTHING - is as it seems. I will keep the plot info to a bare minimum, as the many twists and turns are part of the novel's appeal. I can, however, reveal that the two main characters are called Nick and Amy. They have been married for almost five years when Amy suddenly disappears from their suburban Missouri home, leaving Nick bereft and shocked. As police investigates Amy's disappearance and the press has a field day with every new development, Nick is even more shocked to learn what Amy has said about him. Why, for instance, has Amy told people that she is afraid of him? And - most importantly - what has happened to her?
Flynn is no stranger to intricate plots or tables being turned when you least expect them to. Having said that, plot wise, Gone Girl is by far her most elaborate to date. It positively brims with twists and unexpected developments, and I can guarantee that many a brow will be furrowed and many a "what the...?!" uttered as Flynn deftly switches narratives, navigating from he to she, then to now... and beyond. I literally had to hold on to my seat on at least one occasion.
As you may have gathered by now, Gone Girl is another winner. The only downside to having read it is that I now have to wait several years for a new Gillian Flynn novel. That is a downside I can live with, though, at least as long as Flynn continues to deliver books of this calibre.