Book&Pint: The Fall Guy – James Lasdun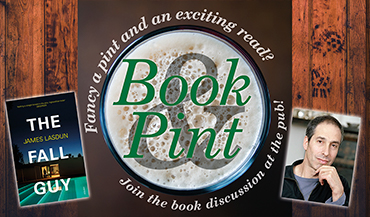 UPPSALA | Wednesday 25th April at 19:00
Fancy a pint and an exciting read?
Join the book discussion at the pub!
BOOK & PINT – book discussions at the pub.

Join us at the pub to discuss the noir book The Fall Guy by James Lasdun.
"Who is the real victim here? Who is the perpetrator? And who, ultimately, is the fall guy?"
It is summer, 2012. Charlie, a wealthy banker with an uneasy conscience, invites his troubled cousin Matthew to visit him and his wife in their idyllic mountain-top house. An entertaining story of fracture in paradise, where an idyllic summer retreat becomes a stage for lies, lust and revenge…
Have a pint of your preferred beverage, a snack or a meal (20% off on food!), while we discuss the crime book of the month. We have a table reserved at the pub, now make sure you get a set at the table – get your ticket from the bookshop today.
Do join us even if you haven't read it yet – don't worry, it's quite short and a really exciting read. Even if you're not quite finished, do join us for the company, food & drinks, and to get a feel for the book discussion group format. Welcome!

Tuesday 25th April at 19:00
at O'Neill's Pub, Dragarbrunnsgatan 53.

** This is a ticketed event **
Get your event ticket & book at the bookshop today! Event ticket 60:- + book 150:-.
Limited number of seats, get yours today!

» Find out more about the author at his website jameslasdun.com
» Check out the menu at the pub
The discussion at the pub is led by James van Loon.