Book release & Talk: Shining in the Dark – Hans-Åke Lilja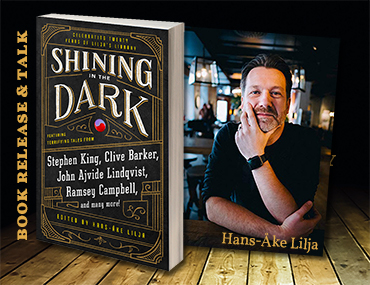 UPPSALA | Tuesday 5th November at 19.00. Tickets 70:-
Book release & Talk:
Shining in the Dark – Hans-Åke Lilja on Stephen King
Our Hallowe'en week continues with a special author visit: Hans-Åke Lilja presents his new book Shining in the dark and lets us know everything we ever wanted to know about Stephen King, and loads of other great horror writers and stories.
For over two decades, Hans-Åke Lilja has been one of the leading voices on the internet when it comes to covering and reporting on Stephen King's books and movies.
Celebrating twenty years of his expansive Stephen King fansite Lilja's Library, this creepy collection of stories is perfect for horror fans of all backgrounds. With a terrifying story that has never been previously included in any of Stephen King's collections, Shining in the Dark is an unforgettable anthology, featuring short stories by some of the genre's best-known and most talented authors.
Welcome to the bookshop of horrors…
Tuesday 5th November at 19.00.
Tickets 70:- (including tea & cake).
Get your advance ticket from the bookshop today! (Or contact the bookshop to reserve a ticket)