Author visit: Maria Bournoncle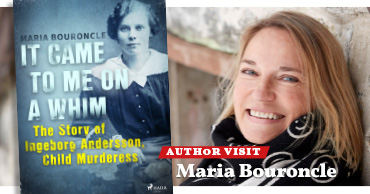 GÖTEBORG | Tuesday 6th December at 19.15. Free.
Maria Bouroncle presents It Came to Me on a Whim – The Story of Ingeborg Andersson, Child Murderess.
It is a cold Easter in the spring of 1929. Artur leaves his wife and three children alone for a few hours to go fetch firewood in the forest. When he returns, his world has collapsed…
The story about Ingeborg Andersson and what happened that day in 1929 was a well-kept secret for seventy years. The tragic family drama is now being retold by Ingeborg Andersson's grand-niece, Maria Bouroncle.
A compelling and horrifying tale that will grip true-crime fans as Bouroncle's extensive research and tireless investigation slowly sheds light on her family's tightly-guarded family secret.
Göteborg: Tuesday 6 December at 19:15.
Free event – bring a friend! Refreshments.