The English Bookshop opens in Göteborg this September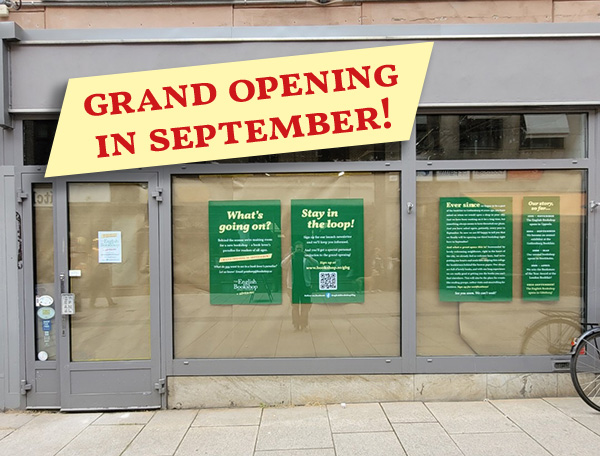 Finally – The English Bookshop comes to Göteborg!
We're a booklover's bookshop – an oasis of thousands of books in English with weekly deliveries from the UK and US. New titles, old titles, classics, non-fiction, mysteries – you name it, we have it. And if we don't have it we can always get it for you – using our vast network of publishers and antiquarian booksellers throughout the world.
Our staff is well-read and put great value on service.
In 2018 we were named Bookstore of the Year at the London Bookfair – a global prize only awarded twice before we won it! We love books and we are proud of it! And we can't wait to meet you!
GRAND OPENING in Göteborg in September on Kungsgatan 19! Until then, you're welcome to shop books by mailorder (here on the website), or by simply emailing uppsala@bookshop.se and we'll help you out. And do drop by our shops in Uppsala or Stockholm if you're in town!
Make sure to like and follow the Göteborg facebook page on the link below (and do feel free to share it), and sign up for the newsletter from the Göteborg shop to be kept in the loop:
---
Pressrelease 2022-06-22
The English Bookshop öppnar i Göteborg i september!
The English Bookshop öppnar i september en ny butik på Kungsgatan 19 i Göteborg. Det blir den tredje butiken för den lilla kedjan som redan finns i Uppsala sedan 1995 och i Stockholm sedan 2008.
"Vi drivs av ett genuint intresse för böcker och läsning, så det känns roligt och viktigt att öppna en ny bokhandel", säger Jan Smedh som äger företaget tillsammans med Christer Valdeson sedan starten för 27 år sedan. "Intresset för att läsa fysiska böcker på engelska är större än någonsin och det är med stor tillförsikt vi nu väljer att öppna i Göteborg."
The English Bookshop är en importbokhandel som specialiserar sig på bredd, kunskap och service i kombination med events som författarbesök, temakvällar, bokcirklar och sagostunder. I både Uppsala och Stockholm är bokhandeln en destination för såväl lokala som internationella besökare.
Bokhandeln blev 2018 utnämnd till Bookstore of the Year vid bokmässan i London och har listats på globala topplistor över besöksvärda bokhandlar. Efter att ha ställt ut på bokmässan i Göteborg varje år sen 2004 har en allt större lokal kundkrets efterfrågat en etablering och nu blir det av.
"Vi är så glada att äntligen kunna öppna i Göteborg", säger blivande butikschefen Miranda Blomberg med mångårig erfarenhet från Uppsalabutiken. "Läget på Kungsgatan är ultimat med ett kluster av bokhandlar och lokalen blir jättecharmig. Vi längtar efter att få träffa alla bokälskare i Göteborg och bjuda in dem i vårt bokparadis. De som redan besökt oss på bokmässan tidigare år eller varit i någon av våra två butiker vet vad som väntar!"
---