World Poetry Day in Uppsala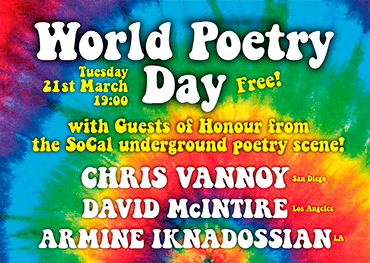 UPPSALA | Tuesday 21st March at 19:00. Free.
WORLD POETRY DAY
with Guests of Honour from the SoCal underground poetry scene!

CHRIS VANNOY (San Diego)
DAVID McINTIRE (Los Angeles)
ARMINE IKNADOSSIAN (LA)

Come celebrate the power of poetry with us on Unesco's dedicated World Poetry Day. International & local poets performing. Night headed by Chris, David and Armine from the LA poetry scene.

Anisur Rahman • Dennis Renfors • Sara Lessing
Linnea Kjellberg • Sam Kessel • Henry Bowers
Kajsa Ragnarsson • Jessica Rose Middleton • and guests

Be there or be hopelessly rectangular!