Why Shakespeare? Talk with Ruby Jand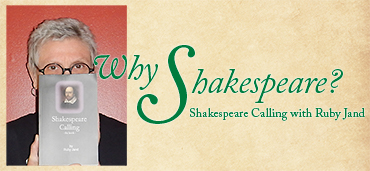 UPPSALA | Tuesday 7th Nov at 19:00
WHY SHAKESPEARE? Shakespeare Calling with Ruby Jand
Who is Hamlet? Is Lady Macbeth really evil? Can Caliban really be a twitchy speeded Goth freak? Why are Shakespeare's characters so interesting to us even today – 400 years after his death?
These questions sent Ruby Jand on a journey of exploration into the world of The Bard. This evening, ms Jand will discuss what Shakespeare means to us today, present some views on his life and plays, and read excerpts from her book Shakespeare Calling.
Welcome to the world of Shakespeare in The English Bookshop in Uppsala on Tuesday 7th November at 19:00.
Tea and cake will be served. Price 70 kr. Get your ticket in the bookshop.