Talk: Mats Målqvist – "Proud to be a Siphilile Woman"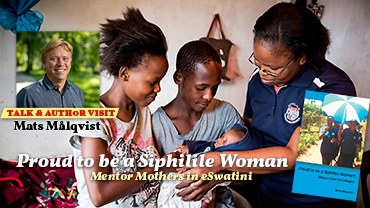 TALK & AUTHOR VISIT
"Proud to be a Siphilile Woman" - Mentor Mothers in Eswatini
by Mats Målqvist
Mats Målqvist, Professor of Global Health at Uppsala University talks about the Siphilile Maternal and Child Health organisation, how a change in social structures can lower child mortality, and about his new book about the foundation of this project.
Every year, more than five million children die before their fifth birthday and almost 300,000 women perish in connection to pregnancy and childbirth. The reasons for these tragedies are not primarily medical, but a matter of priorities and values.
Siphilile Maternal and Child Health was established in the Kingdom of eSwatini (formerly Swaziland), recruiting and training Mentor Mothers to be peer supporters in their own disadvantaged communities. By addressing culture and gender roles, the Mentor Mothers set an example of how maternal and child health can be improved through empowerment.
Tuesday 28 January at 19.00
FREE – bring a friend!
» Feel free to Like&Share this facebook event!
» Visit the project on the web www.siphilile.org