Support Auction – the Nostalgia edition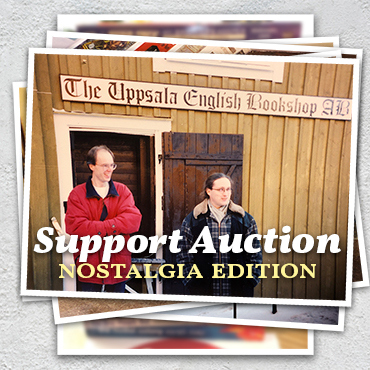 Join our Support Auction – the Nostalgia edition.
In November it will be 25 years since we opened The English Bookshop in Uppsala. Our first location – as many of you remember – was on the second story of an old tannery in a courtyard by the river Fyris. Not the ultimate location for a shop perhaps, but you guys found us anyway and we survived.
We were in this location until September 2001 when we moved to S:t Olofsgatan and here's the thing – we still have 16 books in our stock today that arrived at our first location. These are the only books left that remember the first location and they are an eclectic collection of titles – a biography, a few general fiction titles, some horror and SF, there's mystery and historical fiction and some young adult/children's fiction too.
So since you guys are being so supportive we're going to auction these secret surprises off over the next few days. The way it works is you place a bid for a book and then at the end we will let the top 16 bidders know they've won (which book you win will be a surprise!) And we'll add some Bookshop stuff to the books – plus we'll sign them with special thanks for you!
Your support during this ongoing crisis means the world to us, and we cannot overstate how grateful we are for all you do for us. It's good to know we're not the only ones to love this place! Thanks – and now bid!
Auction open globally – you can bid from weherever you might be.
Auction closes on Saturday 2nd May at midnight Swedish time (CET).
Put in your bid on this link: www.bit.ly/auction-nostalgia