Online Halloween Storytelling event at Embassy of Ireland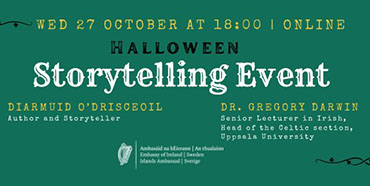 ONLINE | Wednesday 27th Oct at 18.00
Our friends at the Embassy of Ireland in Stockholm invite us all to a very special online Halloween Storytelling event Wednesday 27th October!
A virtual evening of storytelling and the history of Irish folklore in the lead up to Halloween with special guests Dr. Gregory Darwin, Senior Lecturer in Irish at Uppsala University, and Diarmuid O'Drisceoil, Author and Storyteller.
This is a chance to hear the history of Samhain (nowadays called Halloween) as well as how Irish folklore and the art of storytelling developed. It's also a chance to enjoy a story or two in the old tradition of béaloideas from the comfort of your home.
Join in on Wednesday 27th Oct at 18.00
» on the livestream page
» or watch the replay on youtube later
» Read more about the event on the embassy's facebook event page