The Donor by Helen Fitzgerald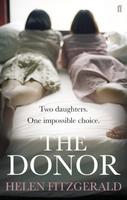 As much as I love Helen Fitzgerald, I must admit to a certain degree of anxiety upon I first hearing of her latest novel, "The Donor". The tag line "two daughters, one impossible choice" sounded a bit too Jodi Picoult-ish for my liking, and while I have been known to read, enjoy and beweep many a Picoult novel, I'm not sure I'd enjoy a weepy dilemma drama from Fitzgerald. Seems like too much of a stretch, don't you think? Of course, I needn't have worried. Behind the tagline lies a story very much in line with Fitzgerald's previous, distinctly dark, gritty and morbidly funny, body of work. Whew!
The Donor tells the tale of Will Marion, single father of sixteen-year-old twins Georgie - sullen, difficult, angry - and Kay - mild-mannered, upbeat, eager to please. When Georgie suffers kidney failure and is placed on dialysis, Will immediately agrees to become a donor candidate. Then the unthinkable happens. Kay falls ill as well, and Will has to face a question no parent should have to ask themselves: which child should he save? Increasingly frantic, Will attempts to contact the girls' biological mother, a globetrotting drug addict whose leading man is currently doing time in prison for manslaughter. Now, this all sounds like - and is - very serious indeed. Being a mother of twin girls myself, the subject matter - drug addicts and felons aside - creeps close to home and the very idea of having to choose between two equally adored children just breaks my heart. Luckily, The Donor is heaped with a big serving of the same pitch-black humour that made Dead Lovely et al so immensely enjoyable. Nothing is quite as it seems here, and the many twists and turns of the story kept me up well after bedtime. Part crime, part chick noir, part X-rated family drama, Helen Fitzgerald's novels defy categorisation, and therein lies much of the appeal. Oh, and may I just comment on how much I love Fitzgerald's unflichingly, unapologetically badass female characters? So strong, so funny, so cool, so completely different from what a woman is supposed to be like according to society's ever so crippling standards. I definitely wouldn't want to encounter them in real life, but within the realms of fiction, they are about as cool as humanly - and fictionally - possible. If you're looking for a Helen Zahavi for the 21st century (and aren't we all?), congrats, your search is over.
Curious about Helen Fitzgerald?
Why, I thought so! On 10 September, I will be interviewing Helen Fitzgerald at Uppsala English Bookshop. Do come, and do take the time to check out Helen's books as well as those of the fabulous Scottish crime writer Karen Campbell, who will be interviewed by the equally fabulous Swedish writer Carina Burman. Did I hear anyone say "fabulous"? Stockholmers need not fret as there will be an event in the Stockholm shop the very next day. Fab, fab, fab!
Read more about The Kulturnatten event at The Uppsala English Bookshop
Helena's top 5 of the month: novels about twins
Like I've alluded to in my review of The Donor and, surely, on several other occasions, I am the mother of twin girls. My fascination with twins began a good ten, fifteen years ahead of the birth of my daughters, though. (Hello, Sweet Valley!) Here are five of my favourite novels dealing with twins, and you will note that I have not included the latest instalment in the Sweet Valley saga, Sweet Valley Confidential: 10 Years on. Utter crap, and, disappointingly, completely lacking that fun-filled guilty pleasure aspect I was hoping for. Steer clear - but do read the books I've recommended here!
Her Fearful Symmetry by Audrey Niffenegger

Featuring identical twins, Highgate cemetery, and a ghost kitten, Her Fearful Symmetry is a must-read for all literary Goths out there.

I Know This Much Is True by Wally Lamb

Arguably the best novel to have been picked for Oprah Winfrey's book club (and let me tell you, there are some real gems there!), this dome of a book tells the story of housepainter Thomas and his schizofrenic twin brother Thomas. A thoroughly absorbing, big, sprawling Great American Novel of a read. Bring tissues.

This novel about a young boy in the South who refuses to give up on his missing twin sister will have you frantically turning pages, and I can almost guarantee that the story and its characters will come back to haunt you long after the last page has been turned.

The Secret Lives of the Twins by Rosamond Smith

Joyce Carol Oates' fascination with twins, duality, and shadow selves is well-documented. As Rosamond Smith, one of Oates' not-so-secret dark twins (these days, she uses a new pseudonym, Lauren Kelly), the fascination became more like an obsession: several of her novels deal with twins in one way or another. I tend to prefer "normal" JCO to her literary twin sisters, but this one is one of her best written as Rosamond Smith.

(Out of print – Use our BookFinder-service to request it)

The Thirteenth Tale by Diane Setterfeld

This atmospheric, beautifully Gothic novel has "ideal autumn read" written all over it - and yes, it does have twins in it as well! I wish Diane Setterfeld would write a new book. Is there a petition I could sign?