Celebrating 25 years in the service of books!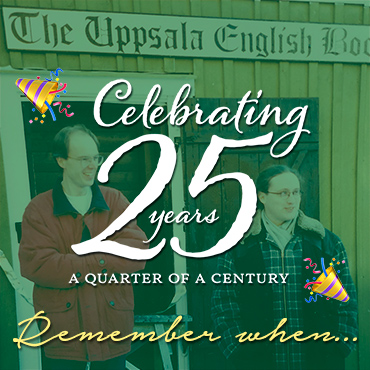 UPPSALA | Wednesday 18th November 2020
Today the bookshop celebrates 25 years in the service of books (and book lovers) – that's a quarter of a century!
Thank you everyone for making these first 25 years possible. From the very first day we opened the first shop in Uppsala on the chilly November banks of the River Fyris it's been completely true that we do what we do in an ongoing conversation with you – our customers – and none of this would have been possible without your continued support. We may feel a bit older now, but we're seriously happy. Thanks.
This last year has been a seriously strange year, but the way you have rallied around us makes us both proud happy and somewhat bashful…. You've come running – by phone, email, foot, bike, car, social media – to express your concern and support and – to place your orders and join the bookclub. This has carried us through the pandemic hitherto. Thank you.
If things had been less irregular we would have thrown a big party but as it is we'll have to move that to next year sometime. But do check out the guest book and if you can – stop by the shop and say hello. We're here for you, safely, now and in future.
SIGN THE GUEST BOOK – SEND A BIRTHDAY GREETING! Send a birthday greeting or share a memory of the bookshop – in social media or in our birthday guest book. Read more at www.bookshop.se/25years
(Feel free to tell the world that your favourite bookshop is celebrating a quarter of a century – use the tag #englishbookshop25 in the socials)