Book release & Reading: The Hunter – Andrew Reid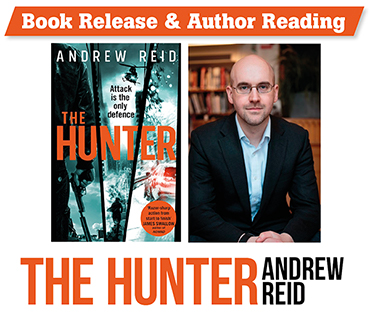 STOCKHOLM | Thursday 21st Feb at 18.30. Free!
Join us in the Stockholm bookshop as Andrew Reid presents his explosive debut thriller – The Hunter.
An action-packed thriller with the gripping, pulse-racing twists of Terry Hayes' I AM PILGRIM and Gregg Hurwitz's ORPHAN X – and a hero as deadly as JACK REACHER.
A troubled genius who vanishes in a mysterious car crash.
A disillusioned cop sensing conspiracy in the corridors of power.
A ruthless team of mercenaries operating in the shadows.
A billion-dollar business that wants the world in its grip.
One link connects them all.
A champion fighter.
Betrayed and searching for the truth.
Cameron King is THE HUNTER.
– – –
Andrew Reid was born in Scotland, and has worked as a research scientist for almost a decade, on projects including DNA synthesis, forensics, and drug development. He now lives in Stockholm.
His short fiction has featured in several anthologies published by Fox Spirit books and his fantasy novel serial on Wattpad amassed almost 200,000 reads. The Hunter is his debut novel.