The House of Shattered Wings, Aliette de Bodard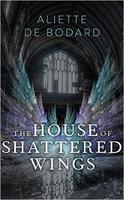 For some reason, fantasy dealing with Christian angel mythology and particularly Lucifer and fallen angels has always appealed to me as an idea, but it's not often that any of it is actually good. Danielle Trussoni's Angelology, Clive Barker's The Scarlet Gospels and Andrew E. Maugham's Convivium are all examples of novels dealing with those themes that are not necessarily bad but have left a lot to wish for. The House of Shattered Wings is not a perfect book, but when it comes to taking on angel mythology, Aliette de Bodard succeeds where most other authors seem to fail.
In The House of Shattered Wings, de Bodard envisions a postapocalyptic Paris in a Europe where fallen angels rule and have colonized most of the world and subsequently driven most other otherworldly forces underground. The once great city functions as a war-ridden stage for the political conflicts raging among the Houses of the Parisian nobility - with Houses Silverspires, Hawthorn, Lazarus, Harrier greatest among them. When House Silverspires was still led by Morningstar himself it reigned supreme, but in the long years after his disappearance it has began to fall into decline and it is eagerly hounded by the other Houses.
The new head Selene is doing her best to keep her House together but when she takes the newly fallen and wounded angel Isabelle under her protection and the unnervingly and oddly powerful human being in whose company Isabelle was found into custody, the already unsteady pillars propping up her House and rule begins to crumble. Something has been unleashed within the House – something dark and sinister that feeds on magic and lurks in the darkest shadows of the House and seems intent on sending Silverspires and all its inhabitants and dependents to ruin.
The board is thus certainly set for an intriguing story, but while it does have its flashes of brilliance, the plot sadly does little to make its wonderful, interesting and atmospheric worldbuilding of novel justice. It pretty much boils down to a simple whodunit story, which, sadly, is just not my piece of cake. The inter-House politics, the characters, and what glimpses the story provides of the rest of the world beyond Paris and Europe are all highly fascinating, but it is all held together by what in my opinion is a rather lackluster plot. It is a shame, because held together by a plot as engaging as its take on angel mythology and its atmospheric worldbuilding, The House of Shattered Wings would have been excellent rather than simply good.